What is it like studying with the LEC?
Deciding to study as an adult is a life-changing decision and there are multiple factors which should influence your choices.
The Diploma in Law is suitable for people who are willing and able to put in the time and effort it takes to achieve great things. In return, the LEC offers high quality teaching and study support that has been developed to ensure the success of students who actively engage with the coursework.
Academic and time commitment
Consistent commitment is required for this course. The Diploma in Law can be completed at your own pace (most students complete it in 4 years), but all students are held to a high standard, so care must be taken to ensure this course can fit within your current lifestyle and commitments to work and family.
Generally, students studying two subjects per semester can expect to spend some time each day studying or in classes. After an initial adjustment period, students find their way and create a schedule that allows them to achieve their goals, even if it has been years since you last studied formally.
Take a look at an average weekly study schedule to see if it is something that might fit within your lifestyle.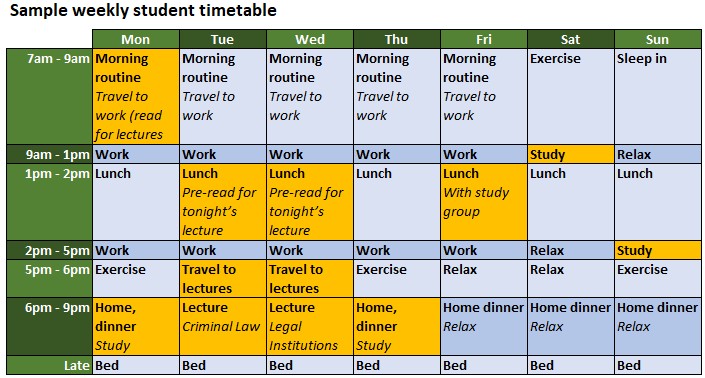 ---
Teaching style
Our focus is on face-to-face delivery. We also use digital delivery to support distance students. The expectation is that Sydney based students will attend evening lectures. These lectures will be made available online for regional students.
Studying together in class with others aids learning, helps develop professional skills, and allows you to build your networks while you learn.
Our tuition involves practising solicitors and barristers and experienced academics teaching their areas of expertise, focusing on the practical elements, with lectures key to this course.
---
Location and attendance
All classes are located at the University of Sydney campus in Camperdown, which is easily accessible by bus or train. Limited parking is available.
Timetabling allows you to study around work and family – on-campus classes are scheduled in the evenings (between 6-9pm) and on weekends, including two compulsory weekend schools that are a great opportunity to meet others and to grow your professional networks.
Study periods are split into two semesters:
Winter – enrol by March | classes commence in May | exams run in September
Summer – enrol by September | classes commence in November | exams run in March
---
The LEC learning environment
The Diploma in Law requires maturity and self-discipline, therefore lends itself to an older student cohort. Your classmates will be more diverse than a typical university group. New school leavers are welcome, but tend to work part or full time while studying.
This is very much an adult environment that may feel different to your previous experience of university life – the focus is on lectures rather than extra-curricular activities.
Diploma in Law students are self-starters and are confident in sourcing the information and the resources they need to engage fully with the course requirements.